The World Cup is the biggest sporting event in the world by a wide margin. 3.4Billion people are expected to watch, 45% of the world's population.   9% of the 2014 World Cup viewers streamed the content online and that is expected to grow significantly at the 2018 World Cup with over 1 Billion more individuals connected to the internet in the past four years, the adoption of digital video content, and the rapid growth of mobile & OTT steaming devices.  With a passionate world-wide audience the World Cup, which occurs every four years, provides a natural learning environment on how we are being transformed into a digital video world.  
2018 FIFA World Cup: A Few Regions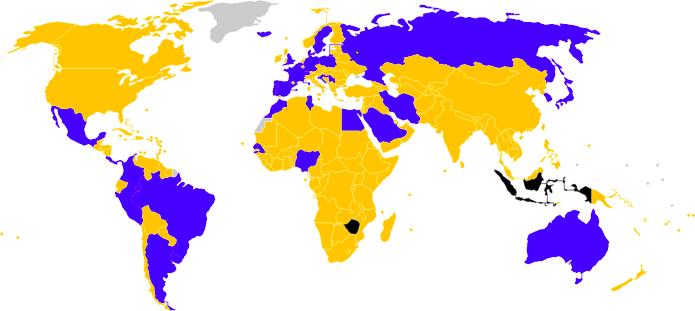 Countries in Blue Qualified for the 2018 World Cup
Futbol is part of the Latin America culture: Brazil & Argentina have been Futbol royalty but the talent spreads throughout Central and South America. Uruguay, Columbia, Mexico, Costa Rica, Peru & Panama also qualified and Mexico beat Germany in route to the knockout round. Led by Brazil, Argentina and Mexico digital video streaming will increase significantly over the next 4 years. In Brazil, OTT users are expected to increase by 50% the next 4 years and advertising revenue in that medium will increase by 3X. In LATAM countries the pay TV providers still dominate but are moving to digital content delivery. Direct to consumer standalone digital video services will increase as the technology evolves making it easier for new and smaller competitors to enter the market.
North America: The United States & Canada did not qualify for the 2018 World Cup however you can watch every World Cup match online on mobile, OTT or desktop. Paid direct to consumer digital video content, led by the likes of HULU, Netflix and Amazon Prime, blazed the trail but now in many areas of the globe advertising supported video content is quickly evolving to digital streaming platforms. In the US, digital video ad spend is expected to increase by 44% over the next four years from $15.4Billion in 2018 to $22.1Billion in 2021.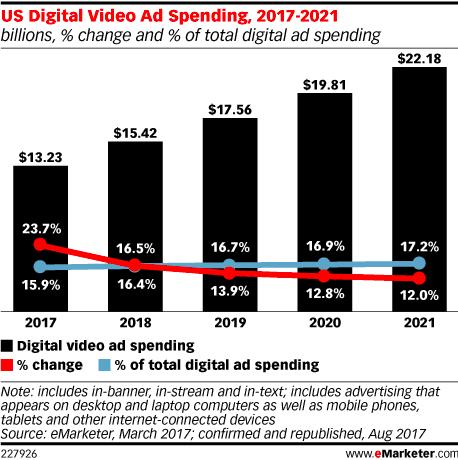 India did not qualify for the 2018 World Cup but they are an engaged and large football fan-base that are watching the matches. Sony is Live Streaming every match in India and viewership is expected to double compared to the 2014 World Cup. A portion of that growth is certainly due to the match times (the 2014 World Cup was in Brazil). Both paid and advertising supported digital video World Cup content are available which has increased the potential viewership group in India as well.
Europe: The European passion for football, and their individual country's team, may be unequaled. The history, rivalries, patriotism, and nearby proximity of the countries, has helped in the evolution of football fanaticism. In the UK, the BBC will broadcast the matches digitally on their BBC iPlayer in 4K and Freewheel, which provides video ad platform and measurement solutions, reports that throughout Europe there was a 44% increase in premium (paid) video starts the past year. European digital video broadcasters are working through EU's General Data Protection Regulation (GDPR), which went into effect recently. GDPR has placed a heightened focus on data security and individual user privacy at firms, who deliver digital video content throughout Europe, but should not slow down the progression of digital video in the region.
Looking Ahead
Several components needed to evolve to a point where the largest sporting event in the world is streamed digitally in many geographical regions including – internet reliability (wired & wireless), streaming video content & ad delivery technology, and the ability for content and content delivery organizations to bundle and monetize digital video. Plenty of work is still required to monetize streaming video, as digital video revenue lags content availability and user interest, but significant strides have been made since the last World Cup.
The framework has been set so expect the streaming video experience at the 2022 Qatar World Cup to be well beyond what we are seeing for this World Cup as digital video may be tailored to an individuals' interests and content and ads may be targeted, measured and optimized in a way not possible with satellite, cable and over the air TV.